Detector
Electron Capture Detector (ECD)
This cell is very similar to the ECD-14; so spare radiation sources can be shared. This detector is used for analysis of electrophillic compounds. Improved cell insulation and reduces contamination achieving higher sensitivity.
Flame Ionization Detector (FID)
Automatic ignition and re-ignition functions are standard. By mounting an APC or solenoid valve unit, a feedback function cuts off gas supply when the hydrogen flame is extinguished. Generally used for detection of organic compounds with a hydrogen carbon bond. Single and dual FID's are available.
Flame Photometric Detector (FPD) 
The FPD-2010, the nozzle system was updated to provide support for packed column analysis while maintaining its high sensitivity. The FPD-2014 is compact with a high maximum temperature (350deg.C). This detector is used for analysis of organic sulphur compounds and organic phosphorus compounds such as residual pesticides and malodorous components.
Flame Thermionic Detector (FTD)
This specialized capillary-type detector employs the FTD-2010 mechanism. Used for analysis of organic nitrogen compounds and organic phosphorus compounds such as residual pesticides. The new collector construction allows replacement without tools. An optional alkali source regeneration kit recoats the bead reducing running costs.
Thermal Conductivity Detector (TCD)
The TCD-2014 is a semi-diffusion type cell reducing contamination and increasing cell lifetimes. Incorporates an automatic filament protection circuit. The TCD-2014 is used for analysis of inorganic gases and concentrated organic compounds.
 Sample Introduction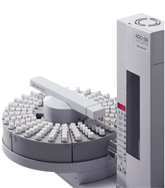 AOC-20i & AOC-20s
The AOC-20i auto injector is the perfect solution for automated analyses. Its proven reliability and reproducibility allows the user to take full advantage of the GC or GC/MS system capabilities. When paired with the AOC-20s autosampler carousel, your laboratory's productivity can be greatly increased.
Pyrolysis System
Pyrolysis Gas Chromatography (Py-GC) is a very useful characterization of all kinds of polymeric materials including solvent-insoluble or composite materials. Py-GC is widely utilized in a spectrum of application areas such as polymer chemistry, quality control, forensic science, environmental filed, energy related technology, geological science, or food chemistry.
 Software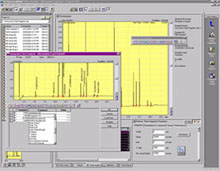 GCsolution is the GC version of Shimadzu's new workstation LabSolutions. GCsolution offers easy operation with Assistant bar, Data explorer, and Batch table wizard. For GLP/GMP regulatory compliance, user management functions, validation assistant, audit trail assistant, and QA/QC function are provided as standard features. Flexible report generator allows user to create report as desired. [more details]